First of all, the mod has options page. Check it, most likely it will help to solve your problem. If there are too many or too little ruins, if ruins are too wealthy, too empty, too easy or too difficult, whether you want ruins on starting map or not — many things can be tuned there.
Navigate to Options ➜ Mod Settings ➜ Real Ruins ➜ Show Settings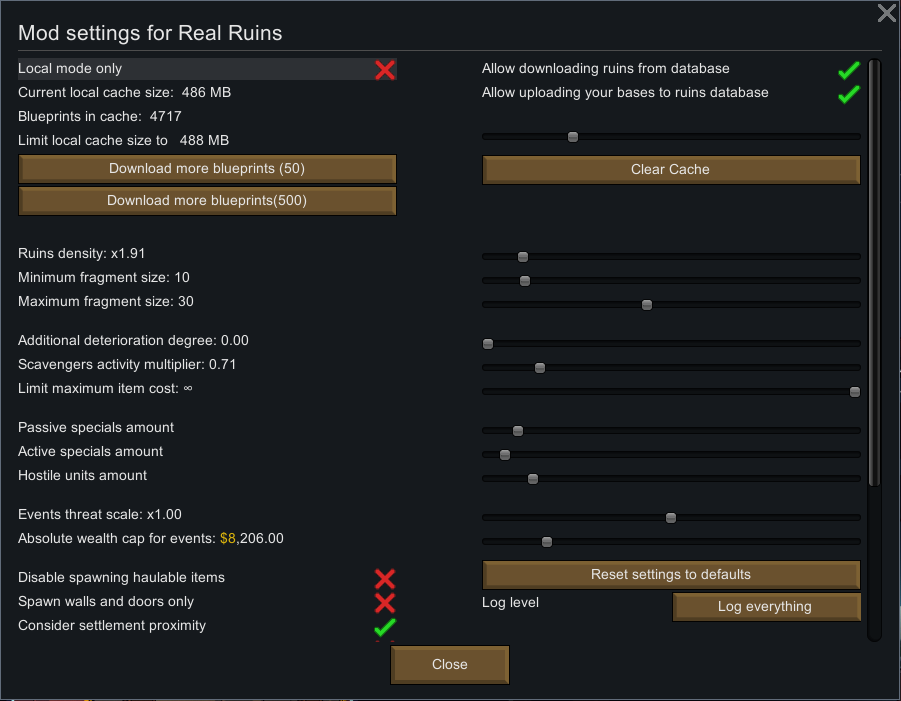 One especially important area for troubleshooting on this page is blueprints store info. If in the area below you see zero blueprints in cache and "download" buttons below do not help, there are serious connectivity problems, and you need to submit a report using the form below Q&A section.

Ruins density depends on settlement proximity. If you land further than 15 tiles away from the nearest village you most likely won't get anything at all. Settle closer to villages or uncheck proximity option in mod settings.
Other possible problem is no blueprints in cache. You can check this in mod settings. See "My cache is empty" question.
1) Check mod settings: Local mode only should be OFF. Downloading shoud be enabled, obviously. Check your firewall settings.
2) Try to press "Download more blueprints" button and do not alt-tab. The game by default pauses everything while in background, so when you're alt-tabbing, all downloads fail by timeout.
3) If nothing helps you can use manual dumps donwloading.
Check you have enough blueprints downloaded (in mod settings). Check you have proper settings: by default "local mode only" should be disabled, and "additional deterioration degree" should be zero. Obviously, ruins density, chunk size and maximum item cost should be more than zero. Other settings don't have so much influence.
If you have problems with errors popping out, if nothing above helps, if the mod clearly does not behave as expected, you can submit a report. Each report should have a log .txt attached. You can either open it via log window (which opens when you have an error), or you can find it manually (even if the game has crashed). It is located in your game installation directory and in called